A Facebook blogging group that I belong to was having a discussion on how to use hashtags for blogs and businesses. The discussion leader was frustrated with others' use of hashtags on social networks. She had a hashtag pet peeve when it came to their use in marketing.
From her perspective, too many people were using them incorrectly. Oddball or wordy hashtags bother her and seem irrelevant in business. She argued that hashtags are to be used for marketing her blog or her business only.
Using hashtags for anything other than that was a waste because who was going to search for something based on #goalswhoopwhoop (the hashtag was a bit longer than that but you get the gist). Anyone using a hashtag that was too long, uncommon, or silly, wasn't an effective marketing strategy. She thought it was a waste of marketing time.
The comments were mostly in support of the discussion leader, adding that hashtags were created for marketing, searching, and indexing of content. All valid points but then others myself included, crept in and argued that hashtags are to be used however your brand sees fit to use them.
I don't disagree that hashtags are a powerful marketing tool. I'm not dissing that fact. If you would've asked me how to use them two years ago, you would've gotten a very cut and dry answer that did not include making hashtags fun or creative. However, hashtags have evolved since their first use and brands who want to use them would be wise to bend the rules and use them as a creative marketing tool and here's why.
Branding is important
You know hashtags are one of the fastest ways for customers to find your brand, product, or service on social media. The best way to do this is to be creative and come up with a hashtag that you can track and brand to your business. One such company that does this is Digiorno Pizza. In 2014 they created the hashtag #DigiorNOYOUDIDNT and then in 2015 they came back with another one #MakeTheRightCall (which has most recently been used as a social advocacy hashtag). One uses their brand name, a smart marketing move in and of itself, and the second one uses a common phrase.
Let the hashtag tell a story
In the case of both Digiorno hashtags, they used them to tell a story and get customer input. Red Bull came up with #PutACanOnIt to creatively showcase their product. Jet Blue creates funny hashtags like #Snowmandigitalproblems to tell customers about TSA limits. Charmin went above and beyond humorous with #tweetfromtheseat. It's now taken on a raunchy life of its own. (Don't look if you can't handle potty humor). It may seem inappropriate and a waste (no pun intended) but it got people to click and share their own #Tweetfromtheseat.
People will share what they care about
If your hashtag is creative enough, (regardless of relevancy) it will get shared. People will share it because it falls into one of two camps:
– They can relate.
– It's humorous.
Sometimes you can hit a trifecta and people will share it for both reasons. The Academy Awards did this with what might look an irrelevant hashtag on the surface. They used #Myjobasamoviescreenshot to get people to share their favorite memes, gifs, and video screenshots to describe their life. It got the awards show noticed and people loved to play along. But it wasn't just people, other brands got in on the act as well.
People are far more apt to buy from you if you can break down their purchasing walls. People don't want to be marketed at. You won't get far if your marketing plan doesn't include ways to engage them. If you only use a hashtag to get in their search results, then you're missing out on how to keep them there. Entertain them.
I was once like the discussion leader in the Facebook group. I thought anything outside of calculated marketing to get seen and you're wasting your time. That was three years ago and hashtags have changed a lot when it comes to marketing. Three years ago you couldn't search them on Facebook or Google.
As for marketing with hashtags, I'd suggest this:
Take a cue from your audience. See how they are using hashtags and learn from them. You may find their use of hashtags distasteful but face it, they are your buyers. Learn from them. They'll teach you what they want. Younger audiences don't know that hashtags had but one use originally. They use it to communicate with each other and don't know how to have a conversation without them.
Don't be afraid to experiment. Get creative, ironic, or funny whenever you can relate it to your brand.
Do not hashtag and ditch. It takes more than one tweet, instagram, or pin for a hashtag to have staying power. Social media moves quickly so what you post this morning likely won't be seen by dinner.
Build a story around it. Make people want to share what you have to say and talk back to you.
Lastly, and most important, do your research before making something up or using an existing hashtag. Digiorno may be clever but they're not immune to mistakes. The #WhyIStayed tweet from 2014 was inadvertently used to in marketing pizza when it was a hashtag highlighting domestic violence.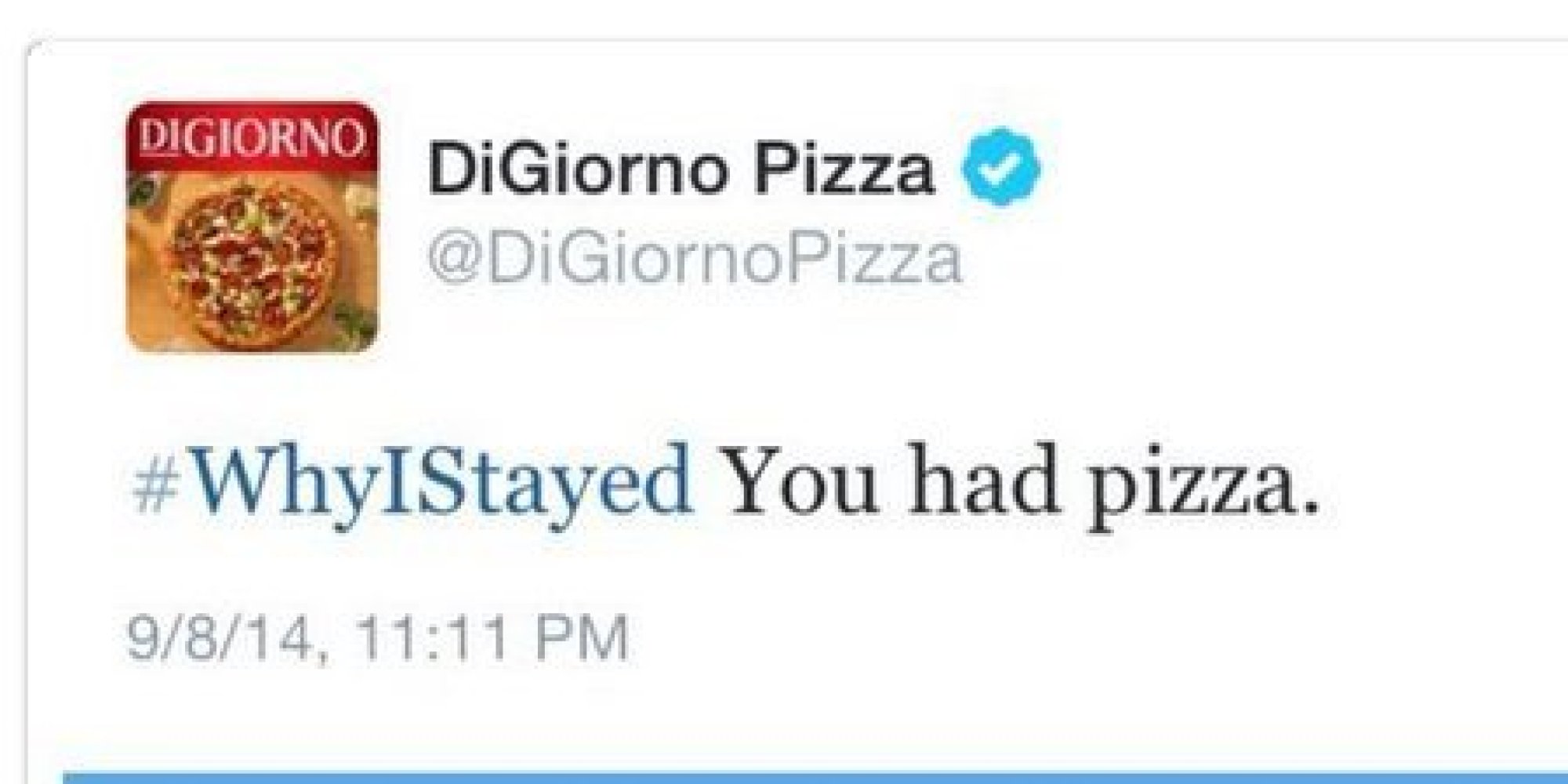 I firmly believe that the biggest mistake you can make with hashtags is to ignore the social creativity of them (like the discussion leader). She couldn't look beyond a business marketing perspective. In order to stay relevant in business today you must be willing to see how your business tools can be used in a socially entertaining and creative way. If you're hyper focused on using the "proper" or "recommended" hashtags, you may miss out on new business.
What ways have you used hashtags in your marketing?